News
Harris Wang Named Recipient of Presidential Early Career Award for Scientists and Engineers
---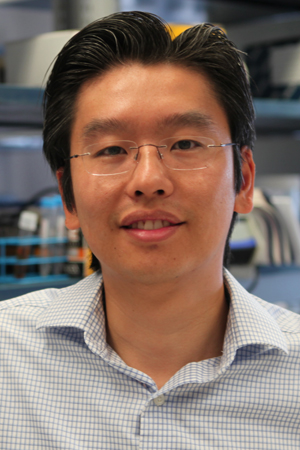 Harris Wang
Harris Wang has been named a recipient of the prestigious Presidential Early Career Award for Scientists and Engineers (PECASE). Dr. Wang is among 102 researchers recognized today by President Barack Obama as the newest recipients of this honor.
The PECASE is considered the United States' highest award for young scientists and engineers, conferred annually at the White House at the recommendation of participating federal agencies. The award celebrates young researchers at the beginning of their independent research careers who show exceptional promise to lead at the frontiers of twenty-first century science and technology.
Dr. Wang was nominated by the Department of Defense's Office of Naval Research, which supports the development of science and technology with the goal of improving the capabilities and safety of the United States Navy and Marine Corps and its personnel. The PECASE award is not Dr. Wang's first award from the ONR; he also received a 2015 ONR Young Investigator Award.
The Early Career Award also includes a five-year grant sponsored by the ONR that will support Dr. Wang's research using synthetic biology to better characterize and engineer the human microbiome — the ecology of bacteria that inhabit the gut. In particular, the grant will focus on applications in microbiome sensing and reporting.
Dr. Wang is an assistant professor in the Columbia University Department of Systems Biology and Department of Pathology and Cell Biology. In the past he has also been recognized with a Sloan Research Fellowship and a National Institutes of Health Early Independence Award, among other honors.
— Chris Williams