Erin Bush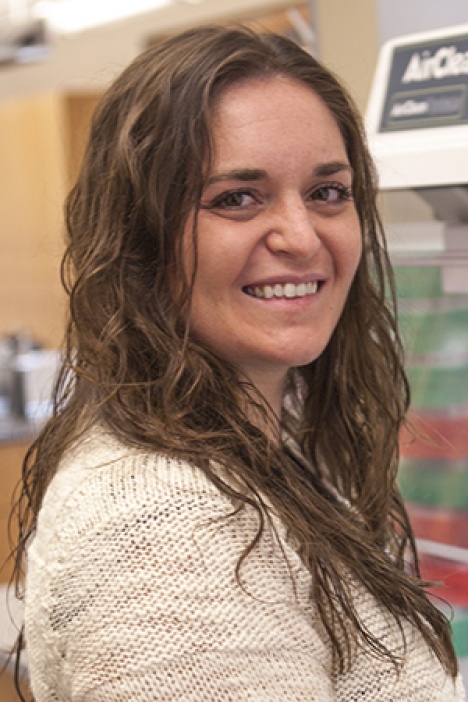 Titles
Director, Single Cell Core
Lab
Erin Bush is a Senior Staff Associate in the Sims and Califano labs, where she is helping to develop new Next Generation Sequencing (NGS) techniques, focusing on low input and single cell DNA and RNA library preparation and sequencing. She is also an Associate Director at the JP Sulzberger Columbia Genome Center.
Before joining Columbia in 2011, her research involved studying transcriptional regulation in Plasmodium falciparum and later methylation patterns in acute myeloid leukemia. She graduated from Princeton University in 2009 with a Bachelor's degree in Molecular Biology. She completed her Master's degree in Biotechnology at Columbia in 2015.
Related News
Erin Bush Receives College of Physicians & Surgeons Officer of Research Award
---
Education History
MS, Columbia University
Biotechnology
BS, Princeton University
Molecular Biology, Concentration in Quantitative and Computational Biology
---
Publications
Pulko V, Davies JS, Martinez C, Lanteri MC, Busch MP, Diamond MS, Knox K, Bush EC, Sims PA, Sinari S, Billheimer D, Haddad EK, Murray KO, Wertheimer AM, Nikolich-Žugich J. Human memory T cells with a naive phenotype accumulate with aging and respond to persistent viruses. Nat Immunol. 2016 Jun 6.
Caudy AA, Guan Y, Jia Y, Hansen C, DeSevo C, Hayes AP, Agee J, Alvarez-Dominguez JR, Arellano H, Barrett D, Bauerle C, Bisaria N, Bradley PH, Breunig JS, Bush E, Cappel D, Capra E, Chen W, Clore J, Combs PA, Doucette C, Demuren O, Fellowes P, Freeman S, Frenkel E, Gadala-Maria D, Gawande R, Glass D, Grossberg S, Gupta A, Hammonds-Odie L, Hoisos A, Hsi J, Hsu YH, Inukai S, Karczewski KJ, Ke X, Kojima M, Leachman S, Lieber D, Liebowitz A, Liu J, Liu Y, Martin T, Mena J, Mendoza R, Myhrvold C, Millian C, Pfau S, Raj S, Rich M, Rokicki J, Rounds W, Salazar M, Salesi M, Sharma R, Silverman S, Singer C, Sinha S, Staller M, Stern P, Tang H, Weeks S, Weidmann M, Wolf A, Young C, Yuan J, Crutchfield C, McClean M, Murphy CT, Llinás M, Botstein D, Troyanskaya OG, Dunham MJ. A new system for comparative functional genomics of Saccharomyces yeasts. Genetics. 2013 Sep;195(1):275-87.
Pino P, Sebastian S, Kim EA, Bush E, Brochet M, Volkmann K, Kozlowski E, Llinás M, Billker O, Soldati-Favre D. A tetracycline-repressible transactivator system to study essential genes in malaria parasites. Cell Host Microbe. 2012 Dec 13;12(6):824-34.