Information Technology (DSBIT)


Pricing
Below you will find the costs of services provided by Columbia University's Department of Systems Biology Information Technology group (DSBIT). If you still have questions or would like to speak with someone about your needs, please contact us.
All fees indicated below are prorated for duration except where noted otherwise.
Note on restricted funds
As a courtesy to Columbia research labs, all invoices will contain calculations for services that can be paid with government grants funds and in-direct funds. (This does not apply to non-Columbia customers.)
High-performance cluster computing

Please note that high-performance cluster usage is assessed at the end of each Columbia University fiscal quarter.
RAM memory usage is factored into all cluster usage costs. Increased RAM usage will result in increased billed hours.
Storage

Purchased storage is calculated on a reserved disk quota basis. Usage/price is adjusted when quotas are increased or decreased.
The minimum storage quota is 100 GB. Additional storage is allocated in 50 GB increments.
Support
Hosting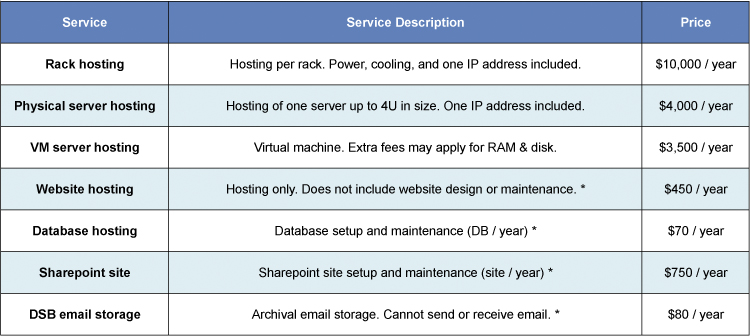 * All services marked with an asterisk are billed as a flat fee and service is not prorated.