Sarah Kim-Hellmuth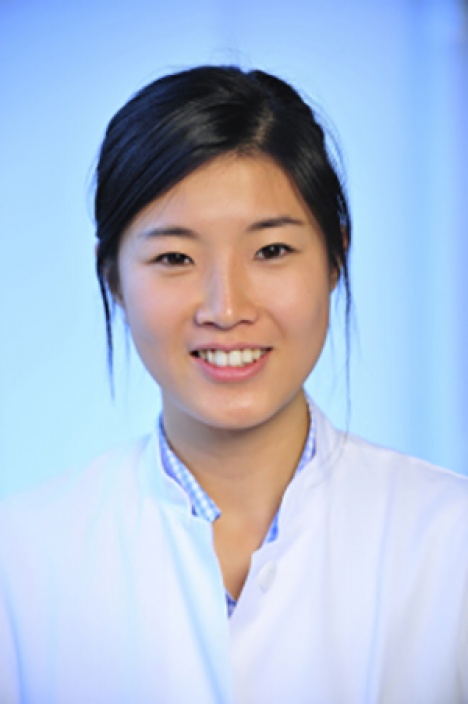 Titles
Postdoctoral Research Scientist
Lab
Sarah Kim-Hellmuth is a postdoctoral research scientist in the Lappalainen lab. She is interested in human genetic variation and its effects on cellular functions linked to infectious and autoimmune disease. 
Sarah studied medicine in Munich, Germany and obtained her doctoral degree in immunology in Veit Hornung's lab, focusing on the recognition of microbial DNA by pattern recognition receptors. During her residency in human genetics at the University of Bonn she pursued her research interest both in immunology and human genetics by investigating expression quantitative trait loci (eQTLs), which underpin innate immune responses, and provide mechanistic insights to complement genome-wide association studies.
---
Publications
Kim-Hellmuth S, Lappalainen T. Concerted genetic function in blood traits. Cell. 2016 Nov 17;167(5):1167-1169.
Kehrer C, Hoischen A, Menkhaus R, Schwab E, Müller A, Kim S, Kreiß M, Weitensteiner V, Hilger A, Berg C, Geipel A, Reutter H, Gembruch U. Whole exome sequencing and array-based molecular karyotyping as aids to prenatal diagnosis in fetuses with suspected Simpson-Golabi-Behmel syndrome. Prenat Diagn. 2016 Sep 2.
Schäfgen J, Cremer K, Becker J, Wieland T, Zink AM, Kim S, Windheuser IC, Kreiß M, Aretz S, Strom TM, Wieczorek D, Engels H. De novo nonsense and frameshift variants of TCF20 in individuals with intellectual disability and postnatal overgrowth. Eur J Hum Genet. 2016 Jul 20.
Kim S, Becker J, Bechheim M, Kaiser V, Noursadeghi M, Fricker N, Beier E, Klaschik S, Boor P, Hess T, Hofmann A, Holdenrieder S, Wendland JR, Fröhlich H, Hartmann G, Nöthen MM, Müller-Myhsok B, Pütz B, Hornung V, Schumacher J. Characterizing the genetic basis of innate immune response in TLR4-activated human monocytes. Nat Commun. 2014 Oct 20;5:5236.
Kim S, Kaiser V, Beier E, Bechheim M, Guenthner-Biller M, Ablasser A, Berger M, Endres S, Hartmann G, Hornung V. Self-priming determines high type I IFN production by plasmacytoid dendritic cells. Eur J Immunol 2014;44(3):807–18.
Bauernfeind F, Ablasser A, Bartok E, Kim S, Schmid-Burgk J, Cavlar T, Hornung V. Inflammasomes: current understanding and open questions. Cell Mol Life Sci. 2011 Mar;68(5):765-83.
Kim S, Bauernfeind F, Ablasser A, Hartmann G, Fitzgerald KA, Latz E, Hornung V. Listeria monocytogenes is sensed by the NLRP3 and AIM2 inflammasome. Eur J Immunol. 2010 Jun;40(6):1545-51.
Bauernfeind F, Ablasser A, Kim S, Bartok E, Hornung V. An unexpected role for RNA in the recognition of DNA by the innate immune system. RNA Biol. 2010 Mar-Apr;7(2):151-7. 
Berger M, Ablasser A, Kim S, Bekeredjian-Ding I, Giese T, Endres S, Hornung V, Hartmann G. TLR8-driven IL-12-dependent reciprocal and synergistic activation of NK cells and monocytes by immunostimulatory RNA. J Immunother. 2009 Apr;32(3):262-71.
Ablasser A, Poeck H, Anz D, Berger M, Schlee M, Kim S, Bourquin C, Goutagny N, Jiang Z, Fitzgerald KA, Rothenfusser S, Endres S, Hartmann G, Hornung V. Selection of molecular structure and delivery of RNA oligonucleotides to activate TLR7 versus TLR8 and to induce high amounts of IL-12p70 in primary human monocytes. J Immunol. 2009 Jun 1;182(11):6824-33.
Hornung V, Ellegast J, Kim S, Brzózka K, Jung A, Kato H, Poeck H, Akira S, Conzelmann KK, Schlee M, Endres S, Hartmann G. 5′-Triphosphate RNA is the ligand for RIG-I. Science. 2006 Nov 10;314(5801):994-7.