News
Harris Wang's Lab Receives Funding from the Gates Foundation to Study Childhood Mortality in Sub-Saharan Africa
---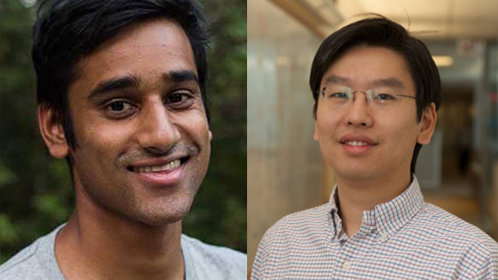 Ravi Sheth (left) and Harris Wang, PhD
Dr. Harris Wang , PhD, and systems biology graduate student, Ravi Sheth , have been awarded a new grant from the Bill and Melinda Gates Foundation to help advance a global health project aimed at reducing childhood mortality in sub-Saharan Africa. The project incorporates Dr. Wang's innovative microbiome research techniques and applies them to study the antibiotic, Azithromycin, towards understanding its role as an intervention for improving childhood survival rates in rural low-income, low-resource settings.
The study supported by the Gates grant expands on breakthrough research conducted in the MORDOR study , a cluster-randomized trial in which communities in Malawi, Niger and Tanzania were assigned to four twice-yearly mass distributions of either oral Azithromycin or placebo. Children, as young as 12 months of age, participated, and results indicated that the all-cause mortality rate was significantly lower for communities receiving the antibiotic versus placebo. 
"This is an extremely exciting and, in many ways, very surprising result for such an underserved population," says Sheth, who is a fourth-year PhD student in the systems biology track at Columbia University Irving Medical Center (CUIMC) . "Now it is crucial to understand how Azithromycin is acting to increase survival in such a profound way – to aid scale-up of the intervention and to help optimize the treatment regime and minimize any unintended consequences." 
The researchers will focus on developing a mechanistic understanding of how Azithromycin reshapes the gut microbiome, and how this altered microbiome state affects the host. The effect of the antibiotic will be studied over space and time to understand the perturbation to the gut ecosystem and resulting community re-configuration and re-assembly, and this information will be utilized to predict and test optimal dosing strategies. 
The Wang lab has developed a next-generation suite of experimental tools and corresponding ecological analysis methods to understand the gut microbial ecosystem at high resolution. Their ongoing work to characterize the functions of the microbiome and the mechanisms underlying host-bacteria interactions will provide a deeper understanding of the role the microbiome plays in health and disease.
The long-term aim of this particular work will lead to establishing an engineering framework to consider dosing and timing of antibiotic regimes as a precision tool to reconfigure microbiomes. The researchers also envision this data will be critical to understanding the mechanistic effect of Azithromycin and potentially designing new trials, building on the significance of the MORDOR trial.
"We have the ability to apply the tools we've been developing over the course of the last few years to study the gut microbiome in an unprecedented way," says Dr. Wang, assistant professor of systems biology at CUIMC. "Our work not only contributes to the understanding of the diverse, complex gut microbiome but also chips away at a critical global health problem." 
Dr. Wang, who has a joint appointment in Columbia's Department of Pathology and Cell Biology , develops new tools and platforms to determine how genomes in microbial populations form, maintain themselves and change over time, across many environments. His goal is to use synthetic biology approaches to engineer ecologies of microbial populations, such as those found in the gut and elsewhere in the human body, in ways that could greatly improve human health.
As a fellow of the Fannie and John Hertz Foundation , Sheth has had the opportunity to engage in projects focused on improving global health and development outcomes. Through his Hertz fellowship, Sheth was stationed at the Bill and Melinda Gates foundation headquarters in Seattle over the summer of 2018, interning on the Maternal, Neonatal and Childhood Health Discovery & Tools team to identify and advance funding opportunities for microbiome-related global health interventions in children. The summer, for him, signaled an exciting change of perspective from spending hours conducting experiments in the lab to understanding the role of a research funder and thinking broadly about global health issues. His experience also included a visit to clinical trial sites in Kenya and Malawi, where he got a firsthand understanding of some of the global health target populations.
"This was an eye-opening experience," says Sheth. "There are a whole host of global health problems that disproportionally affect the poorest people in the world. I'm very thankful for the opportunity this summer to think broadly about these global health priorities and excited to apply some of our new research tools to help develop technological solutions to these pressing problems."
-Melanie A. Farmer