News
Dr. Cory Abate-Shen Elected an AAAS Fellow
---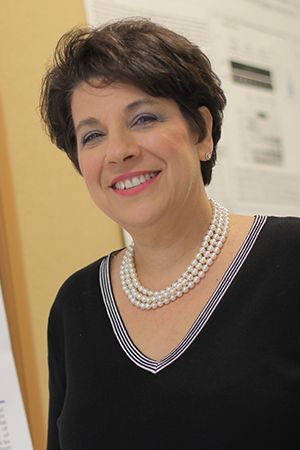 Cory Abate-Shen, PhD
Cory Abate-Shen , PhD, who is known for her leading work in the development of innovative mouse models for translational research in prostate and bladder cancers, has been elected a fellow of the American Association for the Advancement of Science (AAAS) . The AAAS is honoring Dr. Abate-Shen for her work in mouse models to better understand how basic cellular mechanisms are co-opted in cancer and for her contributions to the field of cancer biology. 
She joins a class of 416 new fellows, including two additional Columbia University faculty members, Drs. Richard Axel and Upmanu Lall, who also were elected today to the prestigious group. 
Dr. Abate-Shen, the Michael and Stella Chernow Professor of Urologic Sciences at Columbia University Irving Medical Center (CUIMC) , holds joint appointments in the Departments of Systems Biology , Medicine and Pathology & Cell Biology , and is a member and former interim director of the Herbert Irving Comprehensive Cancer Center (HICCC) . An internationally recognized leader in genitourinary malignancies, Dr. Abate-Shen is particularly interested in advancing our understanding of the mechanisms and modeling of prostate and bladder tumors. An innovator in the generation of novel mouse models for these cancers, her work has led to the discovery of new biomarkers for early detection, as well as key advances in cancer prevention and treatment. Dr. Abate-Shen has been the recipient of numerous awards, including a Sinsheimer Scholar Award, an NSF Young Investigator Award, a Bladder Cancer Advocacy Network Innovator Award and the Women in Cell Biology Junior Award from the American Society for Cell Biology. Currently, she is an American Cancer Society Research Professor, the first to be awarded at CUIMC. 
Prior to joining the University in 2007, Dr. Abate-Shen established and led the Prostate Cancer Program at the Cancer Institute of New Jersey-Robert Wood Johnson Medical School. Her cutting-edge models of prostate and bladder cancer have been used for investigating the molecular basis of the disease as well as in preclinical trials for evaluating new cancer therapies. 
The new class of AAAS fellows will be formally honored at a Feb. 16 ceremony during the 2019 AAAS Annual Meeting in Washington, D.C.
-Melanie A. Farmer