News
Melissa McKenzie, PhD, Receives 'Pathway to Independence' NIH Award
---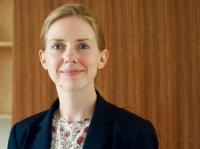 Melissa McKenzie, PhD, a second-year postdoctoral research scientist in the lab of Chaolin Zhang , PhD, has been awarded a K99/R00 "Pathway to Independence" award. This honor supports her goal to identify how alternative RNA splicing networks influence cortical interneuron specification.
Dr. McKenzie graduated summa cum laude from Cornell University where she was an Irving Tanner Dean's scholar double majoring in biological sciences and philosophy. She joined the Zhang lab with a growing interest in leveraging emerging sequencing and other genomics technologies to investigate the role of RNA transcripts in the developing brain. 
This award program is designed to facilitate a timely transition of outstanding postdoctoral researchers or clinician-scientists from mentored research positions to independent, tenure-track or equivalent faculty positions, and to provide independent NIH research support during the transition that will help these individuals launch competitive, independent research careers.
Read more about Dr. McKenzie and research by the Zhang lab .