News
Study of Cancer Metabolism Identifies Potential Drug Targets to Starve Tumors
---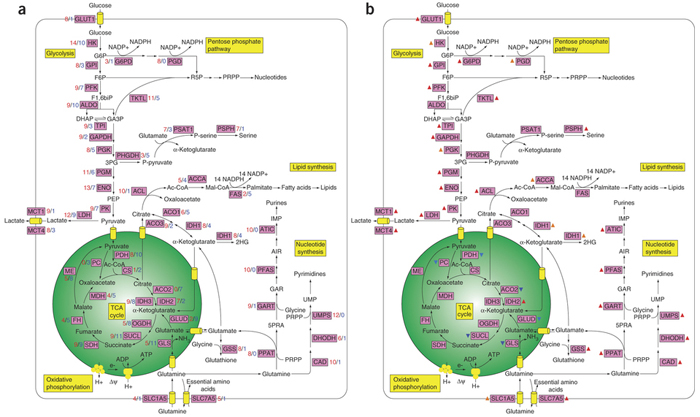 Tumor-induced mRNA expression changes for individual biochemical reactions in central metabolism. 
A large study analyzing gene expression data from 22 cancer types has identified a broad spectrum of metabolic expression changes associated with cancer. The analysis, led by Dennis Vitkup, first author Jie Hu, a postdoctoral research scientist in the Vitkup lab, with a multi-institutional group of collaborators, also identified hundreds of potential drug targets that could cut off a tumor's fuel supply or interfere with its ability to synthesize essential elements necessary for tumor growth. The study has just been published in the online edition of Nature Biotechnology .
As Columbia University Medical Center reports:
The results should ramp up research into drugs that interfere with cancer metabolism, a field that dominated cancer research in the early 20th century and has recently undergone a renaissance.

"The importance of this new study is its scope," says Dennis Vitkup, PhD, associate professor of systems biology and biomedical informatics at CUMC, and the study's lead investigator. "So far, people have focused mainly on a few genes involved in major metabolic processes. Our study provides a comprehensive, global view of diverse metabolic alterations at the level of gene expression." […]

Notably, the researchers found that the tumor-induced expression changes are significantly different across diverse tumors. Although some metabolic changes—such as an increase in nucleotide biosynthesis and glycolysis—appear to be more frequent across tumors, others, such as changes in oxidation phosphorylation, are heterogeneous. […]

For cancer researchers looking for new drug targets, Vitkup's team also found hundreds of differences between normal cells' and cancer cells' use of isoenzymes. This opens up additional possibilities for turning off cancer's fuel and supply lines… "Inhibiting specific isoenzymes in tumors may be a way to selectively hit cancer cells without affecting normal cells, which could get by with other isoenzymes," Hu says. […]

Targeting metabolism may be a way to strike cancer at its roots. "Cancer cells usually have multiple ways to turn on their growth program," Vitkup says. "You can knock out one, but the cells will usually find another pathway to turn on proliferation. Targeting metabolism may be more powerful, because if you starve a cell of energy or materials, it has nowhere to go."
For more information, read the complete news feature at Columbia University Medical Center.