News
Department Honors Outstanding Young Investigators at Annual Retreat
---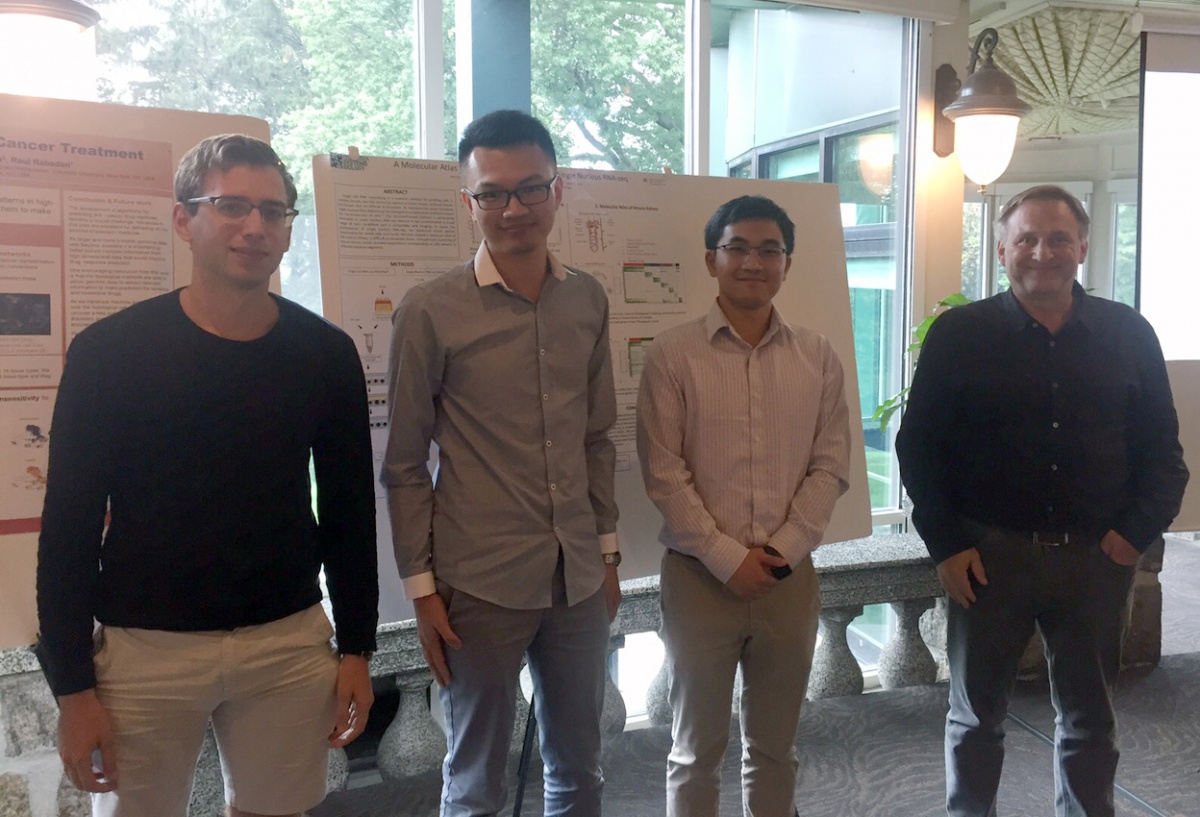 Poster winners with Department Chair Andrea Califano (far right), left to right: Sebastien Weyn-Vanhentenryck, Yun Hao and Jinzhou Yuan
Research diversity and innovation were the key themes at the Department of Systems Biology's annual retreat. Held Sept. 18 in Tarrytown, N.Y., the retreat was attended by 145 guests and included a mix of faculty, students, post-docs, research scientists and department guests. A series of presentations showcased the collaborative projects underway in the Center for Cancer Systems Therapeutics (CaST), along with sessions by faculty about their ongoing research, for example, in the areas of computational genetics, complex predictive methods and cancer-related genomics. The all-day event also included a poster session and competition, highlighting the department's pool of talented students and researchers.
Department chair Andrea Califano said his hope is that the annual retreat gives everyone a chance to "reflect on the various different studies and diverse approaches currently going on in the department." 
Faculty judges named three winners of the poster competition, recognizing the work of students Yun Hao and Sebastien Weyn-Vanhentenryck and post-doctoral research scientist, Jinzhou Yuan.
Yun Hao, a PhD student in Nicholas Tatonetti's lab, looked into targeted therapy, an emerging treatment that uses chemicals to block cancer growth and metastasis by interfering with specific molecular targets. Current agents used in cancer treatment such as epidermal growth factor receptor inhibitors are limited by low efficacy and high toxicity to normal tissues. Hao focused on G-protein coupled receptors (GPCRs), the largest family of membrane receptors, which have not yet been used in target therapy. Hao built a computational workflow to identify GPCRs for cancer therapy, and in his research, showed that predicted GPCRs exhibit both high efficacy and low toxicity levels, offering a new direction for the development of cancer drugs.
PhD student Sebastien Weyn-Vanhentenryck and first co-author Huijuan Feng from Chaolin Zhang's lab examined messenger RNA alternative splicing regulation during brain development. Brain development requires highly orchestrated gene regulation. Messenger RNA alternative splicing (AS) is one layer of regulation which must be developmentally and temporally controlled, but the precise timing of developmental splicing switches and the underlying regulatory mechanisms are poorly understood. Weyn-Vanhentenryck and his group used computational methods to classify neuronal cell splicing patterns through the course of the developing brain in mice. They predicted RNA-protein interactions to show that the proteins Nova, Rbfox, Mbnl and Ptbp can be used in various combination to regulate neuronal splicing networks. The group found that specific neuron types had special splicing patterns with unique combinations of regulatory proteins. Their results provide new insights into how alternative splicing contributes to cellular development.
A postdoctoral research scientist in Peter Sims' lab, Jinzhou Yuan presented a new technique called SCOPE-Seq, a scalable and economical technology that conducts live cell imaging and RNA sequencing of the same individual cell on a large scale. Yuan and Sims devised SCOPE-Seq to be implemented in a microwell array-based platform, which analyzes thousands of individual cells in parallel, enabling it to detect thousands of genes per cell, maintain high expression profile purity and link optical phenotypes and expression profile of the same cell with high accuracy. When the technique is applied in an intracellular esterase activity assay—a mechanism commonly used to measure cell viability—Yuan and Sims were able to identify the underlying associated expression gene signatures. In future work, this new technique could be applied to study the molecular mechanism of drug resistance or to associate dynamic protein expression patterns with genome-wide mRNA expression profile of individual cells.