News
Prostate Cancer Grant Spotlights Columbia's Aim to Deliver Precision Cancer Medicine
---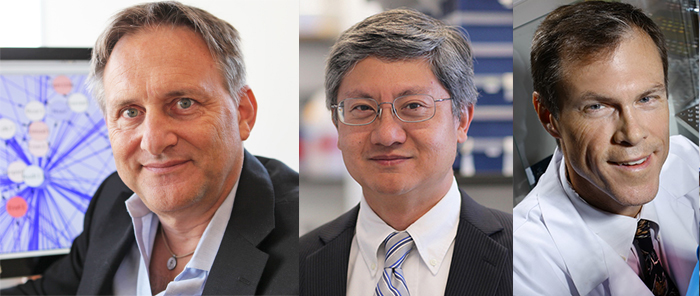 Principal investigators on the PCF Challenge Award grant, from left to right: Andrea Califano, Michael Shen and Charles Drake.
Columbia University Irving Medical Center experts in prostate cancer will lead a new team research project that tests a novel approach for personalized cancer treatment. 
The two-year project, funded by a $1 million Challenge Award from the Prostate Cancer Foundation (PCF) , combines cutting-edge techniques that include computational methods for targeted drug therapy, single-cell RNA sequencing and novel cancer immunotherapy. The combined approaches are behind a proof-of-concept clinical trial for patients with lethal metastatic prostate cancer.  
PCF Challenge Awards fund projects that bring together experts from a number of related fields to form a team focused on the creation of innovative, effective therapies for advanced prostate cancer. As part of Columbia's grant, the new clinical trial will take place at the James J. Peters VA Medical Center (also known as the Bronx VA), a partner of Columbia University Irving Medical Center (CUIMC) and New York-Presbyterian .
PCF is recognized as the leading philanthropic organization for prostate cancer research. For the team at Columbia's Herbert Irving Comprehensive Cancer Center (HICCC ), receiving a Challenge Award from the foundation was more than just an exciting achievement. It underscores CUIMC's continued commitment to strengthen and expand its expertise in prostate cancer research and care through investments in faculty recruitment, enhanced emphases on bolstering basic science research and clinical trials centered on the disease and direct engagement with PCF. 
"PCF has played a role in the early stages of development of almost every drug that has been approved over the past decade in the treatment of prostate cancer. It has been very influential in the field," says Michael Shen , PhD, professor of medical sciences, of genetics and development and of systems biology at CUIMC and one of the study's principal investigators. "This is the first Challenge Award that has been awarded to Columbia, and this is a goal we have long sought to achieve." 
Since its founding in 1993, PCF has raised more than $765 million and funded more than 2,000 research programs at more than 210 cancer centers and universities. Prostate cancer is the second most common cancer in men worldwide, and the eighth leading cause of cancer-related death. It is estimated that 1 in every 9 men in the United States will be diagnosed with the disease during his lifetime.
Columbia expanded its prostate cancer research with the recruitment of Charles Drake , PhD, MD, a pioneer in cancer immunotherapy who joined the University in 2016 from Johns Hopkins University. Dr. Drake, who currently directs genitourinary oncology at NewYork-Presbyterian/CUIMC and co-directs Columbia's cancer immunotherapy program, is co-principal investigator of Columbia's PCF grant and is overseeing the clinical aspects of the research, along with co-investigators Tito Fojo , MD, and Susan Bates , MD, both of whom have appointments at the Bronx VA and are also more recent recruits to Columbia. 
"Getting our team together came quite naturally," Dr. Shen adds. "We already had the team members in place. It was really about creating a project that would exploit the specific advantages of what we each bring."
Indeed, the project encompasses experimentally validated computational tools developed by Columbia's Andrea Califano , Dr, that can identify the proteins that drive aggressive prostate cancer and predict drugs or combination drugs that can target them. It enlists Dr. Drake's specific research in the tumor microenvironment, particularly the immune component. This is combined with experiments from Dr. Shen's lab on single cell analysis of the normal and transformed prostate, coupled with expertise mouse models established in the laboratory of Cory Abate-Shen , PhD, professor of urology, of pathology and cell biology and of systems biology at Columbia who also is a co-investigator of the study. 
"PCF interests change over time. More recently, their interest has evolved to immunotherapy and personalized cancer therapy," says Dr. Drake. "Unique to the strengths of Columbia is Andrea Califano's series of algorithms that predict medicines based on the RNA sequencing of the tumor, and the single-cell RNA sequencing that we will be doing here." 
"Prostate cancer is typically devoid of targetable mutations," notes Dr. Califano, study co-PI and founding chair of Columbia's Department of Systems Biology . "What we are trying to do here is use the RNA as an entry point to therapeutic options." 
Single-cell RNA sequencing is a rapidly evolving technology that obtains molecular and genomic data for each individual cell contained within the tens of thousands that can make up a biological sample. This technique is also making it possible to discover new cell types within the tumor and its surrounding environment.
The project also ties in next-generation immunostaining technology, led by co-investigator and molecular pathologist, Massimo Loda, MD. In February, Dr. Loda will join Weill Cornell as its new chair of the Department of Pathology and Laboratory Medicine, and as pathologist-in-chief at NewYork-Presbyterian/Weill Cornell Medical Center. 
"The icing on the cake, so to speak, is the clinical trial ability at the VA," notes Dr. Shen. 
Precision Cancer Medicine at the VA
Historically, VA patients have not had access to clinical trials or cutting-edge cancer therapies. PCF has made working with VA hospitals a priority, in order to bring personalized prostate cancer therapies to VA patients and HICCC has a long-standing commitment to serving the needs of patients in its community. In November, PCF received a $2.5 million donation from the John and Daria Barry Foundation to establish a Precision Oncology Center of Excellence at the Manhattan campus of the VA NY Harbor Healthcare System. 
The Columbia proof-of-concept trial at the Bronx VA will serve a small group of patients with an aggressive form of prostate cancer. The trial is devised so that the biopsy of patient tumors occurs when they begin their first treatment, giving the Columbia team ample time to run Dr. Califano's algorithmic framework to effectively analyze those tumor biopsies for the most effective drugs unique to each patients' cancer. 
"We will have the drug predictions ready for them before their next line of treatment," says Dr. Drake. "This is a very ambitious project. What sets this research apart is we have the ability to analyze the whole tumor microenvironment when we do the single-cell RNA sequencing … There is not a lot of data on metastatic prostate cancer. Scientifically, those data will teach us things that we have yet to discover." 
Jessica Hawley , MD, a young investigator who drafted the study's clinical protocol and is charged with overseeing the project's many logistics, notes that in addition to the exciting science that will be gleaned from this project, it will test whether the feasibility of this approach at the VA can be successfully executed. 
"This is uncharted territory. We are looking at patients as an individual and not looking at a specific sort of mutational basket where we are then fitting patients into," says Dr. Hawley, who is in her second year as an oncology fellow at Columbia. Dr. Hawley is working closely with Dr. Prab Mundi , the point physician at the VA, to carry out Columbia's clinical trial.
"While precision oncology trials are extremely challenging logistically," adds Dr. Mundi, "they have tremendous potential of finding effective treatments for these patients that will extend survival and improve quality of life."
For Dr. Hawley, the potential outcome of this project resonates personally. Her grandfather, who passed away from metastatic prostate cancer, was a military veteran and had received part of his care at the VA system.
"I only wish things like this had been available for him," she says. "Precision oncology is the wave of the future and we are still in the early stages of learning what the best platform is to really execute the right treatment, and to do it in a safe way, too."
-Melanie A. Farmer
PCF Challenge Award Project Title : Master Regulators Underlying Tumor-Microenvironment Interactions in Metastatic Prostate Cancer
Principal Investigators :  Michael Shen, PhD (Columbia University Irving Medical Center), Charles Drake, MD, PhD (New York-Presbyterian and Columbia University Irving Medical Center), Andrea Califano, Dr (Columbia University Irving Medical Center)
Co-Investigators : Cory Abate-Shen, PhD (Columbia University Irving Medical Center), Susan Bates, MD (James J. Peters Veterans Affairs Medical Center, Bronx), Antonio Tito Fojo, MD (James J. Peters Veterans Affairs Medical Center, Bronx), Massimo Loda, MD (Dana-Farber Cancer Institute), Francesco Cambuli, PhD (Columbia University Irving Medical Center)