News
Spotlighting Interdisciplinary Research and Young Investigators
---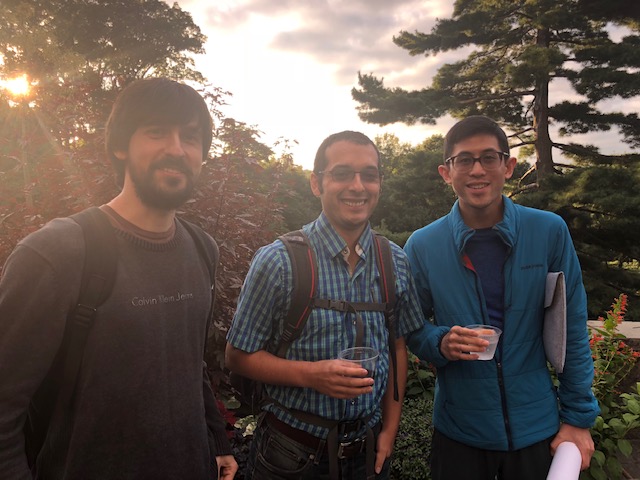 Members of the Dennis Vitkup Lab, from l to r: Konstatine Tchourine, German Plata and Jon Chang (Credit: Sandra Squarcia); Photo Gallery of the retreat.
Innovative research projects were highlighted at the Department of Systems Biology's annual retreat, held October 5, at Wave Hill Public Garden and Cultural Center in Riverdale, NY. The retreat, attended by 160 faculty, staff, post-doctoral scientists, students and guests, also provided an opportunity for young investigators to showcase their work during a poster competition. 
Andrea Califano , Dr., chair of the department, opened the day's sessions with welcome remarks, as the retreat also served as a site visit by the National Cancer Institute for the Columbia University Center for Cancer Systems Therapeutics (CaST) . CaST, co-directors Drs. Califano and Barry Honig , vice-chair of the department, was established in 2016 as one of the key centers in the NCI's Cancer Systems Biology Consortium (CSBC). The initiative behind CSBC is heavily grounded on innovation—bringing together interdisciplinary teams of clinical and basic cancer researchers with physical scientists, engineers, mathematicians and computer scientists who collaborate to tackle major questions in cancer biology from a novel out-of-the-box point of view. 
During the department's morning sessions, CaST project leaders, including Dr. Califano, Dr. Honig and Raul Rabadan, PhD, professor of systems biology and director of the Program for Mathematical Genomics (PMG) , delivered updates to ongoing CaST projects, highlighting collaborations from within the Systems Biology Department and across Columbia. Featured presentations covered projects in areas, including single-cell biology, computational frameworks to elucidate cancer cell state and identify novel protein-protein interactions, predictability of cancer tumor progression and evolution and analysis of drug response in organoids that mimic a bladder patient's tumor. ( Photos of the retreat and full program )
Afternoon sessions featured talks by Systems Biology faculty on a range of expertise, reflective of the diversity of the field. For instance, Laura Landweber , PhD, explained ongoing research in Oxytricha trifallax and basic biology discoveries tied to exploring its complex genome, Cory Abate-Shen , PhD, discussed her lab's work studying mouse models to understand the basic cellular mechanisms behind human prostate cancer and Sagi Shapira , PhD, described work to computationally identify protein-protein interactions in human viruses.
Systems Biology post-docs and students displayed posters and discussed their research with faculty and guests. Faculty judges selected three winners for their outstanding work, and the winners each gave 15-minutes presentations to round out the all-day event. The winners this year are:
Andy Chiang ( Dennis Vitkup Lab ),  Exons as units of phenotypic impact for truncating mutations in autism spectrum disorders
Huijuan Feng ( Chaolin Zhang Lab ),  Modeling RNA-binding protein specificity in vivo by precisely registering protein-RNA crosslink sites
Hanna Levitin ( Peter Sims Lab ),  Single cell RNA-seq resolves lineage specific activation dynamics for human blood and tissue T cells
To view photos of the DSB Annual Retreat, visit the Photo Gallery .